FS Playground available here Features / Development
Who we are
FS Simulation enthusiasts for many years…
Software developers for as many.
Software utilities for the FS has been a passion of ours.
The first (publicly available) utility for flying in Vatsim with X-plane was done with X-Connect – one of our FS utilities.
FsRegen was another, providing scenery and airplane tools and utilizing the (at the time) new g-max, the little 3D Studio Max that changed FS design for ever.
The latest addition to the FS scene, brings one internal, never released before utility to the foreground. The breathtaking world in our simulations is crying for a replay system. And a position library system to go with it. So many places to see, share and save for later reference.
A bit of history
We are proud of our earlier projects. Although never made for public or commercial distribution, we feel that giving you a glimpse of them would be our best resume:
First ever X-plane to Vatsim – freeware
That was something to write home about. While the X-plane team was working on a plugin, we just couldn't wait. It did create some waves 🙂
The screenshot on the left is from that "historic" flight. The X-Connect utility was used for some months before Ben and Austin come up with the goods.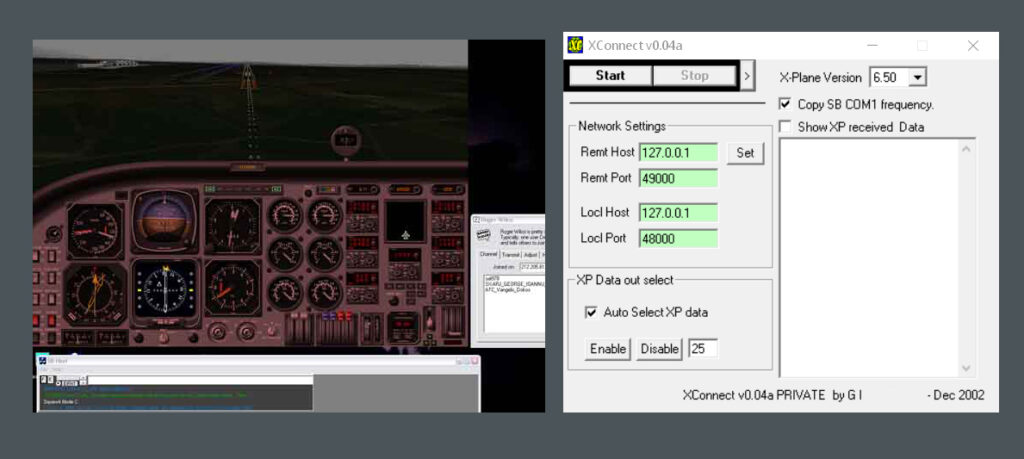 ---
FS Regen – freeware
The utility that did a bunch of things, from library object placements (providing amazing speed gains to scenery) to Lake creation and Flexing wings. And if you look close enough, X-Plane scenery converter is there too. All this back in 2002.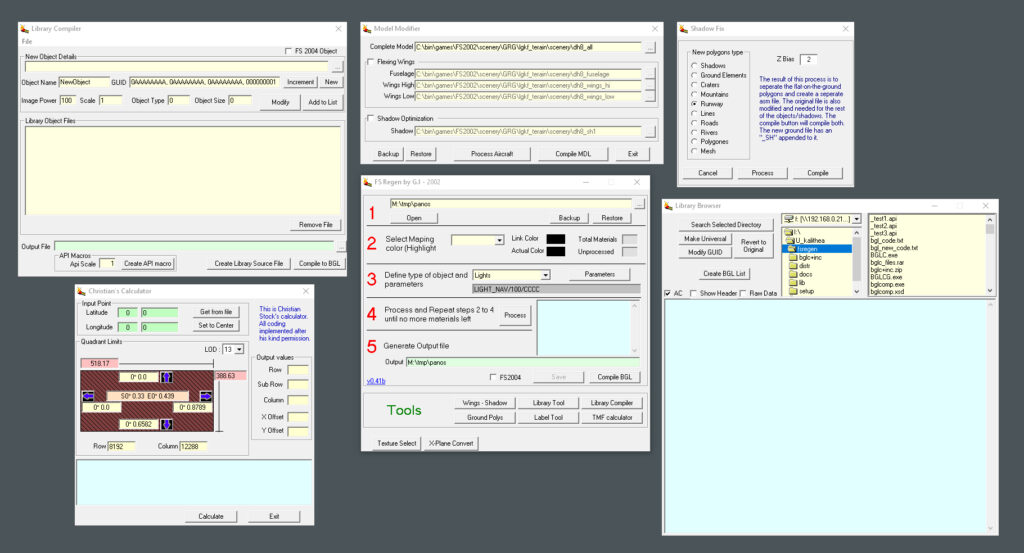 ---
The grandfather of FS Playground
The story of FS Playground in one screenshot. Has been with us for a long long time. Has seen quite a few versions of flight simulators :
---
747 MCP
A great prototype of the 747 MCP panel. Enrico Schiratti's amazing Project Magenta was the first software to cooperate with our MCP. General FS connectivity was of course supported. Here it is today, summoned from the dark basement corner that spent quite a few years, still ready to serve (although missing a digit):

And as they say, everything looks better in the dark :
---
FS Box 1
Old and battered, all the way from the Flight Simulator 98 days. Still working, FS Box1 would control the autopilot and Nav aids. Glorious Vatsim and Ivao days..
---
Scenery design – gmax – Many freeware sceneries
The new kid on the block, gmax, changed everything in modeling. And we were no strangers
---
Signing off
Microsoft, with Flight Simulator 2020 has raised the bar. And awoken our love for flying civilian planes, exploring a world never seen before in a flight simulator.
We have deep roots in this great hobby and this vibrant community. We feel that we have contributed a great deal both as developers giving for free, but also as customers supporting other developers, small and big. And we hope that you will come to the conclusion that our first not freeware project, is worth every single penny.
With our best regards,
Team NVG